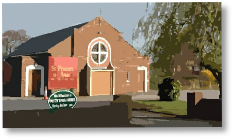 St Francis of Assisi - Llay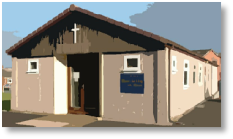 Christ the King - Rossett




Let us pray for the sick
John Blackman, Simon Bowen-Jones, Rose Byrne, Danny Carr, Pat Cummins, Barry Foster, Rev. Owen Hardwicke, John Harkin, Jane Huxley, Eva McCallum, Veronica Marlow, Jean Partington, Debbie Riley, John Thompson, Peter Williamson.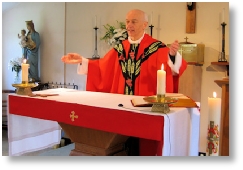 The Holy Father's Prayer Intention for February: Say "No" to corruption – That those who have material, political or spiritual power may resist the lure of corruption
The "Link": Latest edition of this, our Free Diocesan Newsletter, is now in the porch. Do take a copy.
"Into the Future"
A Pastoral Plan for the Diocese from Bishop Peter. This is a background paper which outlines the principles by which the churches and parishes of the diocese will be rationalised. Copies have been e-mailed to all who receive the bulletin via email and printed copies are also available from the back. Any responses should be made to the parish priest in writing. This is an important paper and will affect us all – and with regard to Mass times in the diocese – quite soon, too. Please read it and expect to hear much more about it in the near future. Copies available from Parish Office.
Bishop Peter has sent out a second Pastoral "Into the Future" paper explaining the proposals for the reorganisation of the parishes of Wrexham Diocese.
View Pastoral letters HERE
We Remember in our prayers
Those whose anniversaries occur this week
19th Cecilia Manktelow, Eileen Croke
20th Francesca Sweeney, Wilfred Law, Jack Mason
21st Clifford Evans, Elanor Prince
22nd Anthony Monnigan
24th Herbert Hughes
May they rest in peace and rise in Glory
Supporting Our Poor Clare Sisters in Hawarden
2018 - Until the Sisters move to Nottingham later this year, we will continue to support them with food collections only. During February we will collect Breakfast Cereals.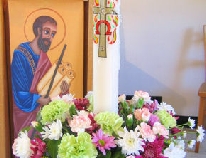 Quietness in Church
Be silent, be thoughtful, be reverent, for this is the house of the Lord. Before Mass speak to God. During Mass let God speak to you. After Mass speak to one another, but quietly, without disturbing those who are at prayer – ideally in the porch.
A Day of Prayer for Lent
On Saturday 24th February at Loreto, Abbey Rd, Llandudno L30 2EL, 10.00am to 4pm organised by St Beuno's Outreach. Bring a packed lunch; tea and coffee will be provided. Mass in the afternoon. See the notice in the porch.
Mass for the Sick
In celebration of the World Day for the Sick on the feast day of Our Lady of Lourdes, Bishop Peter will celebrate Mass in St. Mary's Cathedral, Wrexham on Saturday 17th February at 12 noon and invites the sick of the Diocese, all who care for them, and past pilgrims to Lourdes to join him in this celebration which will include the celebration of the Sacrament of Anointing of the Sick. Light refreshments will be available in St. Mary's Cathedral hall afterwards.
HCPT Fund-Raising Dance
Friday 9th March 2018, 7.30pm 'til Late at St Mary's Catholic Club, Regent Street, Wrexham. HCPT (Wrexham) aims to take between 8 and 10 children with disabilities to Lourdes this Easter. Tickets (£6) from Anne-Marie on 07548 283791 or pay on the night. See the notice at the back.
Lenten Lunches
At St Martin's Church Hall, Market Square, Llay, every Friday from 16th February to 23rd March, 12 noon to 1.30pm. £3 for soup, roll, cheese, fruit and tea/coffee. All proceeds to charity. See the notice at the back. Do come.
CLICK TO PRAY
An app has been launched to allow people to pray with the Pope. See www.clicktopray.org for more information.
Our New Directory and Year Book 2018
Available from the porch at £2.50 – a fund of information on the parishes, Dioceses and organisations etc. of the Catholic Church in Wales.
World Meeting of Families – 21st to 26th August 2018 In Dublin
To help us to keep this event prayerfully in mind each family was offered a beautiful prayer card on Sunday 24th December after Mass. There is still a small number of these cards available from the back. Do take them – and use them!
Valentina's Coffee Morning & Cake Stall
Sunday (18th February), at Llay, after the 11am Mass. Valentina is one of the parishioners of the parish of Sumy in the Ukraine which this parish supports in various ways. Valentina has been confined to bed for most of her life due to serious illness, and we help to finance her nursing care, for which Valentina is deeply grateful. This annual Coffee Morning and Cake Stall is one of the ways in which we do this. So do please do your best with baking, promoting and turning up on the day.
First Penance & First Holy Communion 2018
Preparation Class at Llay this coming Saturday (24th Feb), 11 to 12. Children with parents or guardians. Do be there – and on time.
Our Lenten "Station" Mass
In accord with ancient custom, the Bishop of the diocese celebrates Mass with the priests and people of each Deanery during Lent – "Station" Masses. Bishop Peter will celebrate the "Station" Mass of this Deanery on Thursday 22nd February at 7pm in St Anne's, Prince Charles Road, Wrexham LL13 8TH. Do try to be there.
St Mary's Catholic Primary School,
Lea Road, Wrexham
Do you wish for your child to be educated in a Catholic School? Will your child be age 3 by 31st August 2018? Is your child ready to start Nursery School in September 2018? Apply online www.wrexham.gov.uk/english/education/admissions_nursery.htm
Please contact the school if you wish to arrange a visit. Tel: 01978 352406 or Email
mailbox@stmarys-wxm-pri.wrexham.sch.uk
website: https://stmarys-wxm-pri.wrexham.sch.uk
See the notice at the back.
TCC Training Weekend
TCC is running a residential community organising training course this February at Noddfa Retreat Centre in Penmaenmawr. The course runs from 6pm on Friday 23rd Feb until 6pm on Saturday 24th Feb, with all meals and overnight accommodation included, and is free to anyone from a TCC member group, which this parish is. Do consider going – it is well worth while. For more information contact – tel:01978 262588 or www.tcc-wales.org.uk.
See notice and leaflets at the back.
Our Lenten Penitential Service
(Change of Date)
Thursday 15th March, with Stations of the Cross – 7pm at Llay with a choice of Confessors.
The "Lenten Alms" Box
This has been placed at the back of the church (and is emptied every day!). This year your alms go to Bakhita House and to the Medaille Trust, both involved in working against the evils of human trafficking. Read about this (and about St. Josephine Bakhita) in the February "Link".
Lenten "Walk with Me" Booklets 2018
These have a page for each day from Ash Wednesday (154th February) to Easter Sunday. They are available now, from the porch – Free. Do take one and use it. (Donations welcome).
Our Foodbank in Wrexham
Please place your donations in the box at the rear of the Church. Please note that at present the Foodbank are requesting 200ml cartons of juice and tinned meat. They do not need any pasta, beans or soup.
Congratulations
Congratulations to Bishop Peter, who celebrates the 40th Anniversary of his ordination to the priesthood this Sunday (18th). Let us keep him in our prayers.
Stations of the Cross
Cancelled for this coming Friday because of the painting of the church.
Church Painting
This will be done from Monday to Friday of this week. Our Masses on Monday, Tuesday and Wednesday will be in the hall. Please enter by the hall door (and not by the Church door). Please be patient with any inconvenience.
CAFOD
Colette Byrne of CAFOD asks for a parishioner or a few parishioners to volunteer to act as her port of call for this parish. She also asks for parish representatives who would be willing to write to their local MP on a variety of issues a few times a year. Training and guidance is available. Email: cbyrne@cafod.org.uk
Mobile: 07779 804 242 / Tel: 01978 355084 Telephone messages will be picked up on Mondays & Tuesdays only.
Next Sunday (18th): RCIA and the Rite of Election: at 3pm in Cathedral Wrexham with evening prayer. All welcome.