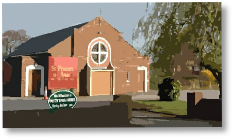 St Francis of Assisi - Llay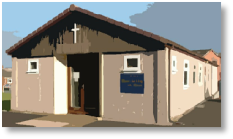 Christ the King - Rossett




Let us pray for the sick
John Blackman, Simon Bowen-Jones, Rose Byrne, Danny Carr, Pat Cummins, Barry Foster, Rev. Owen Hardwicke, John Harkin, Jane Huxley, Eva McCallum, Veronica Marlow, Jean Partington, Debbie Riley, John Thompson,Margaret Thompson, Peter Williamson.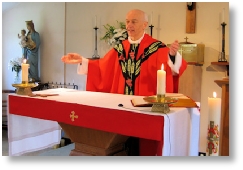 Our Holy Father's Prayer Intentions for April: For those who have responsibility in economic matters – That leaders in financial affairs may have the courage to reject economic measures that exclude people and rather seek new inclusive approaches.
The "Link": Latest edition of this, our Free Diocesan Newsletter, is now in the porch. Do take a copy.
"Into the Future"
A Pastoral Plan for the Diocese from Bishop Peter. This is a background paper which outlines the principles by which the churches and parishes of the diocese will be rationalised. Copies have been e-mailed to all who receive the bulletin via email and printed copies are also available from the back. Any responses should be made to the parish priest in writing. This is an important paper and will affect us all – and with regard to Mass times in the diocese – quite soon, too. Please read it and expect to hear much more about it in the near future. Copies available from Parish Office.
Bishop Peter has sent out a second Pastoral "Into the Future" paper explaining the proposals for the reorganisation of the parishes of Wrexham Diocese.
View Pastoral letters HERE
We Remember in our prayers
Those whose anniversaries occur this week
22nd Hettie Deavies, John Cornelius Quick
23rd Joseph Donnelly,
Gerry Cummins Snr.
24th Sarah McBride
26th Catherine Williams, Eileen Tetzlaff
28th Alice Thompson, Andrea O'Donnell
May they rest in peace and rise in Glory
Supporting Our Poor Clare Sisters in Hawarden
2018 - During April we will help the Sisters stock up their cupboards with basic essentials for their vegetarian diet. Suggestions are Dried Beans, any variety pinto, black, red kidney, cannellini, chickpeas etc. Dried lentils, any colour; Dried Grains, couscous; bulgar wheat; Nuts, any variety, whole, chopped, ground. Veg.Stock, Soy Sauce. Jars of pickles like gherkins, peppers, olives, sundried tomatoes etc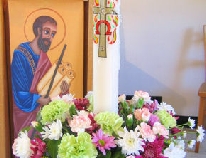 Quietness in Church
Be silent, be thoughtful, be reverent, for this is the house of the Lord. Before Mass speak to God. During Mass let God speak to you. After Mass speak to one another, but quietly, without disturbing those who are at prayer – ideally in the porch.
Synod 2018 – Young People, the Faith and Vocational Discernment
Many of you will have heard about the 2018 Synod taking place in Rome and will have responded to the survey or encouraged young people to respond. Next week the Pre-synod begins and young people are invited to participate through social media. Young people can engage with this process in any of the following ways:
1.Facebook: https://www.facebook.com/groups/Pre.Synoda
2. Twitter by following @synod2018
3.Instagram: https://instagram.com/synod2018/?hl=en
Offertory Envelopes
Please ensure to use these (blue) envelopes and discard any unused pink envelopes. Some of these boxes of envelopes are still awaiting collection at the back of the church. Please collect yours now and remember to use them, so that the Gift Aid can be reclaimed from HMRC
CLICK TO PRAY
An app has been launched to allow people to pray with the Pope. See www.clicktopray.org for more information.
Our New Directory and Year Book 2018
Available from the porch at £2.50 – a fund of information on the parishes, Dioceses and organisations etc. of the Catholic Church in Wales.
Thank you for recent collections
Easter offerings – for the priest:: £1441.65
Lenten Alms – including Maundy Alms on Holy Thursday to aid with the work against the evils of human trafficking £313.34
Holy Places – Good Friday for the support of the people and the Holy Places in the Holy Land: £231.50.
Last Sunday's SVP Coffee Morning
This raised £211.66 for the SVP work with young people. Many thanks to all who came along and who helped in any way. It was very enjoyable.
Our Foodbank in Wrexham
We have been advised that they are in urgent need of 200ml cartons of juice and tinned meat. They do not need soup, beans, pasta or sauces. Please leave donations in the box at the rear of the church.
Wrexham Diocesan 2018
Pilgrimage to Lourdes
22nd to 27th May: 5 nights. Direct flight from Liverpool to Lourdes, price £699 and £749. Details and booking forms with Canon. See the notice at the back.
PAC Minutes
Minutes of the PAC Meeting of 29th January 2018 now available at the back
St. David's Celebration
On Friday 27th April at 7pm for 7.30pm at Our Lady of the Rosary, Buckley, CH7 2BF. Fish and chip supper; music by "Folk from the Woods", "Outbreak CH2" etc. Prebook Tickets (£8) at 01244 544570 – In aid of L'Arche Flintshire. See the notice at the back.
"The Gift"
A "Life in the Spirit" 6 week course at Pantasaph Friary, starting Thursday 19th April at 7pm. Everyone welcome. For more information see the notice at the back or contact Br. John at 07856363760.
"Walk with me" Booklets Easter 2018
These have a page for each day from Easter Sunday to Pentecost. They are available now from the back – free. Do take one and use it. (Donations welcome to defray the cost!)
End of Life Decisions and Dying Well
A one day conference looking at these issues – Friday 27th April 10.00am to 4.30pm at Our Lady of the Rosary Church, Jubilee Road, Buckley, CH7 2AF. Cost £50 to include refreshments and buffet lunch. Booking essential. Booking forms from Canon. More information from Margaret Hinton or see the notice at the back.
Welsh National Pilgrimage to Our Lady of the Taper Shrine, Cardigan
On Pentecost Sunday, 20th May, starting at 1.30pm, led by our Bishop, Peter Brignall. For more information ring 01239 612615 and see the notice at the back.
World Meeting of Families – 21st to 26th August 2018
In Dublin. To help us to keep this event prayerfully in mind each family was offered a beautiful prayer card on Sunday 24th December after Mass. There is still a small number of these cards available from the back. Do take them – and use them!
Diocesan Youth Day 2018 – 23rd June Llandudno
For young people Year 7 and above. To include a walk, toboggan ride and Mass. Packed lunch required, drinks provided. Further details can be obtained from Christine Humphreys, chrisshumphreys@hotmail.com or tel: 07799703200
CYTUN-AGM
This Tuesday (24th) at 1.30pm in the Methodist Church, Castle Street, Caergwrle. All are invited and encouraged to come along.