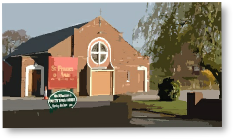 St Francis of Assisi - Llay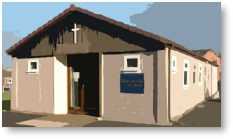 Christ the King - Rossett




Let us pray for the sick
John Blackman, Simon Bowen-Jones, Rose Byrne, Danny Carr, Pat Cummins, Barry Foster, Mary Gaffney, Rev. Owen Hardwicke, John Harkin, Jane Huxley, Eva McCallum, Veronica Marlow, Jean Partington, Debbie Riley, John Thompson, Peter Williamson.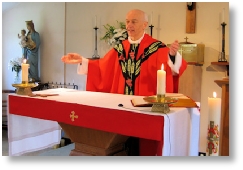 "The Vatican, Past & Present": Issue 29 (Sept to Nov 2017). A few copies of this magazine are now available from the porch at £3.50.
The "Link": Latest edition of this, our Free Diocesan Newsletter, is now in the porch. Do take a copy.
"Into the Future"
A Pastoral Plan for the Diocese from Bishop Peter. This is a background paper which outlines the principles by which the churches and parishes of the diocese will be rationalised. Copies have been e-mailed to all who receive the bulletin via email and printed copies are also available from the back. Any responses should be made to the parish priest in writing. This is an important paper and will affect us all – and with regard to Mass times in the diocese – quite soon, too. Please read it and expect to hear much more about it in the near future. Copies available from Parish Office.
Bishop Peter has sent out a second Pastoral "Into the Future" paper explaining the proposals for the reorganisation of the parishes of Wrexham Diocese.
View Pastoral letters HERE
We Remember in our prayers
Those whose anniversaries occur this week
22nd Christine Pilsbury
25th John Percival
27th Mary Marron
May they rest in peace and rise in Glory
Supporting Our Poor Clare Sisters in Hawarden
OCTOBER - BATTEN DOWN THE HATCHES – next week sees the start of a new month. During October we hope to support our Sisters with donations of cleaning materials for household and garden e.g. washing up liquid; creams; polishes; dusters; de-greasers; bathroom sprays; toilet cleaners/toilet blocks; dishcloths; microfiber cloths; Pathclear; garden refuse bags; gardening gloves; Jeyes fluid; bleach; disinfectant; scouring pads; brushes (any type).
The Sisters are very grateful for the donations you send, your generosity humbles them and is of a great help. Please don't forget them.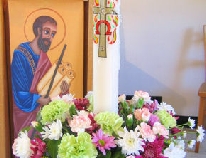 Quietness in Church
Be silent, be thoughtful, be reverent, for this is the house of the Lord. Before Mass speak to God. During Mass let God speak to you. After Mass speak to one another, but quietly, without disturbing those who are at prayer – ideally in the porch.
First Penance and First Holy Communion 2018
Our children who are preparing to receive the Sacraments of Reconciliation and Holy Communion for the first time in 2018, will present themselves to the parish family this Sunday at the 11am Mass in Llay. Please pray for them, their families and their Catechists and give them all the support you can.
Bishop Edwin
After his hip operation, Bishop Edwin has been recuperating at Ince Blundell Care Home. He should by now be back at Bangor to stay with Fr. Adrian Morrin for a few more weeks. He thanks you for your prayers
CLICK TO PRAY
An app has been launched to allow people to pray with the Pope. See www.clicktopray.org for more information.
Parish Job Vacancy
The parish is seeking to employ a weekly part-time cleaner, 2 hours, in Llay for the cleaning of the hall and associated areas (not the Church). The wage is as per the Living Wage Foundation (not the government scheme) currently £8.45.
Please see the poster at the back of the church for full details. Applications to be made in writing to the parish secretary or by email to office@llayrossettparish.org.uk. The closing date for applications is Monday 23 October 2017.
Our Foodbank in Wrexham
Please see the Harvest Posters and newsletter at the back of the church providing an update of the food list and information of the work carried out by the Foodbank. Please put your donations in the box provided.
www.thinkingfaith.org
Do try this: www.thinkingfaith.org – the online journal of the Jesuits in Britain. And look up the article by Fr. Nicholas Austin S.J. on Amoris Laetitia ("The Joy of Love"), the apostolic exhortation of Pope Francis.
Forming a new Pastoral Advisory Council (PAC)
Remember from last week's "Pulpit Address" that 3-4 parishioners are invited to volunteer from each of the groups which make up our parish, based on the Sunday Mass you normally attend. The first meeting is planned for Monday 13 November 2017 at 7pm. See the full "Pulpit Address" on the noticeboard at the back.
First Penance and First Holy Communion 2018 Prep Class
Preparation class at Llay this coming Saturday 21th October, 11 to 12 noon. Children with parents or guardians. Do be there and on time.
Nursery Open Morning at St Mary's Primary School, Wrexham – this Wednesday 12th October, from 10.45am – if you know a child who is 3 before 31st August 2018. Are you looking for a Catholic Education for September 2018? (Parking available on school yard from 10.30am).
We Care About Women
We Care About Women is a campaign of the Society for the Protection of Unborn Children to oppose decriminalising abortion. As part of the We Care About Women campaign SPUC is organising a Mass Constituency-based Lobby and is asking people to make an appointment with their MP to ask him/her to vote against any moves in Parliament to decriminalise abortion.
The Mass Constituency-based Lobby is taking place on 27/28 October 2017. Please note SPUC is not asking people to come to Westminster to meet their MP.
Decriminalising abortion means removing all legal restrictions on abortion. This will leave women even more vulnerable to the unscrupulous abortion industry at work in our country. And more unborn babies will be lost to abortion.
Please contact SPUC for comprehensive materials on the issue of decriminalising abortion and how to organise a meeting with your MP. Please call SPUC on 020 7091 7091 or go to www.spuc.org.uk Alternatively you can write to: SPUC, Unit B, 3 Whitacre Mews, Stannary Street, London SE11 4AB
EMBRACE 2017
Saturday 25th November
Embrace is a one-day, Catholic youth conference aimed at young people aged 14 – 25 (Year 9+). It is a vibrant and exciting day of talks, workshops, praise & worship (this year to be led by CJM Music), times of prayer, Adoration, opportunity for Reconciliation, with the day culminating with the celebration of Mass with the Archbishop of Liverpool.
Transport is being arranged by the Diocese at a small cost. To book a place email chrisshumphreys@hotmail.com for full details no later than 31st October. See the notice in the porch.
Bishop Edwin
After his hip operation, Bishop Edwin has been recuperating at Ince Blundell Care Home. He should by now be back at Bangor to stay with Fr. Adrian Morrin for a few more weeks. He thanks you for your prayers
Health Walk each Tuesday 1.30pm at St Francis of Assisi in Llay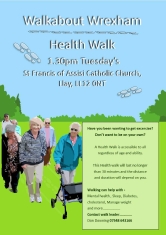 Organised by Don Downing. Have you been wanting to get exercise?
Don't want to be on your own?
A Health Walk is accessible to all regardless of age and ability. This Health Walk will last no longer than 30 mins and the distance and duration will depend on you. Walking can help with – mental health, sleep, diabetes, cholesterol, weight management and more. For further information contact the walk leader: Don Downing on 07548 643166. See the poster at the back.
"Come and Sing" – Music for the Mass
An informative and practical sing-along of new and approachable settings of the Mass for congregational use – led by Paul Booth and Tony Warren – at Our Lady of the Rosary, Buckley CH7 2AF, 10.30am to 2pm. Open to all £5 charge to cover resource materials and refreshments. For further information email: paulbooth@wrexhamdiocese.org.uk
October – Month of the Rosary
Pray the Rosary as a family, or privately. If necessary, learn how to pray it – ask somebody, pick up a leaflet or booklet. Pray it at least a few times during October, but ideally, every day; it takes just 15 to 20 minutes. And it so pleases our Blessed Mother, Mary.
The Holy Father's Prayer Intention
for October
Workers and the unemployed – That all workers may receive respect and protection of their rights, and that the unemployed may receive the opportunity to contribute to the common good.
Darland Community Theatre Presents "Tears & Laughter" at Darland School, Rosset at 7.30pm, 2-4 November. Tel: Eileen 01978 855196 to reserve tickets
Fr Owen Hardwicke
We can now call Fr. Owen directly to his room at the "White House" on 01978 312384. Do give him a call
KSC Calendar 2018
Will be on sale at the back next weekend after Mass – in aid of "Missio".
Every Drop Counts – Give Blood
This Thursday (26th) at Llay British Legion, 2 to 3.30pm and 5.30 to 7.30pm. To make an appointment phone 0800 25 22 66 or visit www.welshblood.org.uk
RIP
Dominic Bryon, a former head teacher of St. Richard Gwyn High School, Flint, has died. Please keep him and his family in your prayers
Pastoral Ministry Course
Read about this on page 3 of this month's "Link", and do consider availing of it. The parish will support any costs entailed.