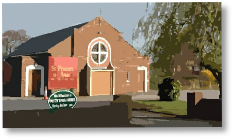 St Francis of Assisi - Llay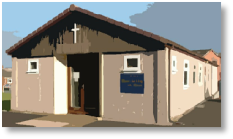 Christ the King - Rossett




Let us pray for the sick
John Blackman, Simon Bowen-Jones, Rose Byrne, Danny Carr, Pat Cummins, Barry Foster, Mary Gaffney, Rev. Owen Hardwicke, John Harkin, Jane Huxley, Eva McCallum, Veronica Marlow, Jean Partington, Debbie Riley, John Thompson, Peter Williamson.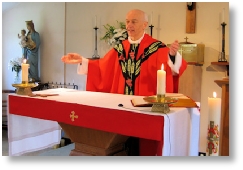 "Novena"
Issue 16 (Autumn/Winter 2017/2018)
Some copies of this magazine available from the back at £3.50
The "Link": Latest edition of this, our Free Diocesan Newsletter, is now in the porch. Do take a copy.
"Into the Future"
A Pastoral Plan for the Diocese from Bishop Peter. This is a background paper which outlines the principles by which the churches and parishes of the diocese will be rationalised. Copies have been e-mailed to all who receive the bulletin via email and printed copies are also available from the back. Any responses should be made to the parish priest in writing. This is an important paper and will affect us all – and with regard to Mass times in the diocese – quite soon, too. Please read it and expect to hear much more about it in the near future. Copies available from Parish Office.
Bishop Peter has sent out a second Pastoral "Into the Future" paper explaining the proposals for the reorganisation of the parishes of Wrexham Diocese.
View Pastoral letters HERE
We Remember in our prayers
Those whose anniversaries occur this week
14th Francesco Giovanni Melacrinis
17th George Benson
20th John Gibson
21st Rex Brian
22nd Nora Webb
May they rest in peace and rise in Glory
Supporting Our Poor Clare Sisters in Hawarden
Christmas donations now being collected. Please see the bulletin extra.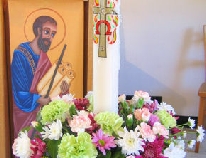 Quietness in Church
Be silent, be thoughtful, be reverent, for this is the house of the Lord. Before Mass speak to God. During Mass let God speak to you. After Mass speak to one another, but quietly, without disturbing those who are at prayer – ideally in the porch.
Aid to the Church in Need (ACN)
Some copies of their little magazine "Persecuted But Never Forgotten" are available from the back, along with newsletters from various parts of the world – sad but inspiring reading, and crying out for a response from us.
CAFOD – "World Gifts" Catalogue
Full of inspirational gift ideas for Christmas. Copies available (for taking home) from the back.
Our Annual Christmas Draw – Sunday 17th December After the 11am Mass
Draw tickets are now on sale - £1 per ticket, £5 per book. 1st Prize - £100 Plus other prizes which include a £50 M&S Gift Card and a hamper. All proceeds are in aid of our "Wednesday Club".
Our Foodbank in Wrexham
Wrexham Foodbank have sent us new posters advising how we can best help them this Christmas, including the top 10 Food Items. Please see the poster in the pourch.
www.thinkingfaith.org
Do try this: www.thinkingfaith.org – the online journal of the Jesuits in Britain. And look up the article by Fr. Nicholas Austin S.J. on Amoris Laetitia ("The Joy of Love"), the apostolic exhortation of Pope Francis.
Further Advent Penitential Service
On this Thursday (21sth) at the Cathedral in Wrexham at 7pm – with a number of priests available for the Sacrament of Reconciliation ("Confession")
Altar Servers' Mass
Bishop Peter invites all Altar Servers to a Mass of thanksgiving for Servers and a renewal of Commitment to Serve – followed by light refreshments – on Sunday 30th December at 12 noon in the Cathedral in Wrexham. Those who are interested in becoming an Altar Server are welcome to come along and find out more. Remember to bring your alb. For further information contact Deacon David Ives at dcndave61@gmail.com or see the notice at the back.
SVP
Our St Vincent de Paul Conference meets this Thursday (21st) at 6pm in Llay. Would you like to join or learn more? Speak to one of the members or to Canon
Dave Bebbington's "Birds"
Beautifully carved, with tails on which to rest your rings! - £5 minimum and all proceeds go to "Mary's Meals". Available from the back.
"Walk with Me" Booklets – Advent and Christmastide 2017
Once again available from the back – to help us on our spiritual journey through Advent and Christmastide, with a page a day from 3rd December to 8th January. These booklets are free, but donations are gladly accepted to help defray the costs.
Our Holy Father's Prayer Intention for December - The Elderly
The elderly, sustained by families and Christian communities may apply their wisdom and experience to spreading the faith and forming new generations
"Adoremus" – The National Eucharistic Pilgrimage and Congress – Liverpool
7 -9 September 2018
In the Praise and Witness to the Eucharistic Lord, the aims of Adoremus are:
To rejuvenate Eucharistic Adoration in Parishes
To encourage greater love for the mystery of the Most Holy Sacrament of the Altar
To engender a deeper understanding of the place of the Eucharist in the life of the church
To provide practical resources for Eucharistic Adoration for Parishes and Schools
To better form Extraordinary Ministers
To better equip Parish catechists and Schools
To confirm Parish ministry around the centrality of the Eucharist
Because Adoration of the Eucharist deepens our relationship with Christ, it enables us to be more effective disciples who will be better able to lead others to the life of the Church that has the Eucharist at its heart.
Cleaning Parish Hall
Following the departure of Renata, our cleaner, the parish has employed the services of Rita's Domestic Services. Angie, our cleaner, will come each Tuesday. Users of the hall and kitchen are respectfully asked to ensure that they leave everything tidy – chairs put away; litter put in the bin; spillages to be wiped or swept. Kitchen work tops should be wiped down and left clear of items. If tea towels are used, please take them home to launder and return them as quickly as possible. Thank you.
Pizza and Prosecco with the Bishop – For 18's – 25's
On this Wednesday (20th) at the Church Hall, Plas Ave, Prestatyn LL19 9NH, 7.30pm. RSVP immediately to chrisshumphreys@hotmail.com
Mary's Meals
This charity provides a meal to some of the children in the poorest parts of the world every day they attend school. They are currently feeding 1,230,171 children at a cost of £13.90 per child, per year.
From now until 31 December 2017, every £1 donated will be doubled by "three amazing donors". Pick up a leaflet at the back and check it out at www.marysmeals.org.uk or Tel 0800 6981212
Our Outdoor Crib, Llay
Many thanks to Don Downing who has put our outdoor Christmas Crib in place at Llay again this year. It truly and beautifully publicises the true meaning of this festive season.
The crib is lit from 3.30pm to 10.00pm each day and we pray to St. Michael the Archangel to protect it from harm. We hope that it will remind many, of the true Joy of Christmas and be a sign of our faith to all who pass-by our church.
Repository Christmas items
On display in the porch at Llay after the 6pm Saturday and 11am Sunday Masses – with someone in attendance should you wish to purchase some items.
Mission Today ("Missio") Calendar 2018
Some of these free calendars are now available from the back.
CLICK TO PRAY
An app has been launched to allow people to pray with the Pope. See www.clicktopray.org for more information.
Fr Owen Hardwicke
He has now moved to Hilbury House Nursing Home, 2 Hilbury Rd, Wrexham Room 51. (the former Nazareth House)
Our New Directory and Year Book 2018
Available from the porch at £2.50 – a fund of information on the parishes, Dioceses and organisations etc. of the Catholic Church in Wales.
Day of Prayer for Advent
Saturday 9th December 10.30am to 4pm (ending with Mass), at Loreto Centre, Abbey Road, Llandudno LL30 2EL. Everyone invited. Bring a packed lunch. See the notice at the back.
Belmont Abbey
A few booklets listing their Pastoral Programme for 2018 are available at the back.
World Meeting of Families (WMOF2018)
21st to 26th August 2018 in Dublin (www.worldmeeting2018.ie). A date for your diaries