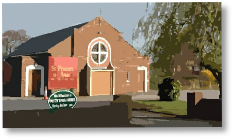 St Francis of Assisi - Llay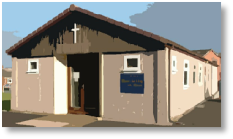 Christ the King - Rossett



Sunny Sumy Parish Soup Kitchen By Peter Bamford sfo
1 p.m. on Friday 1st August saw us visitors sitting down to lunch in the presbytery at Sumy along with some members of the local secular Franciscan fraternity and other parishioners. Lunch was vegetable soup, followed by savoury rice, with kompot to drink (if you don't know what that is, ask anyone who was there).
The significance of the menu was that at 2 p.m. The Franciscans (some of whom had been involved in the cooking) were going to be serving exactly the same to the local homeless people in the church garden. Chairs and tables had to be set out, and disposable plastic bowls and cups got ready.
Promptly at 2 service began. No queuing - 4 or 5 bowls, plus cups of kompot, would be put on to a tray and one of the helpers would carry them to a table. Once a table had finished its bowls of soup, the tray would be collected, brought back to the serving table, and the bowls filled with rice. I somehow found myself doing this bit - I just hope everyone got fair shares!
On this particular day 30+ homeless people were fed. The soup kitchen operates on Tuesdays and Fridays throughout the year, and in winter the numbers are more likely to be between 60 and 80.
Homelessness is obviously at least as big a problem in Sumy as it is in Chester, where I live. The main difference as far as I could see was that far fewer of the Sumy homeless seemed to have obvious alcohol or drug problems. Most of them seemed simply to be people who were experiencing bad times in a society where life can be pretty difficult at the best of times, and they included a few family groups.
I should like to pay tribute to Rita Sergienko ("Mama Rita" to Sumy parishioners, and also minister of the secular Franciscan fraternity), the driving force behind the soup kitchen, and to thank her and my Franciscan brothers and sisters for giving me the opportunity to work alongside them in their apostolate, if only for a short while. And thanks also to Fr Pius, John, Anne, Helen and Jasmine for allowing a couple of "outsiders" to tag along.
Vocations in Sumy by John Fernee
During our visit we were pleasantly surprised to meet 3 prospective nuns within the congregation. Ina Nebilova, a young woman who returned from Kharkov on the last day of our visit, had just received her Polish visa to spend 2 years with the Carmelite Sisters in Poland, following which she will return to work with the same order in Ukraine.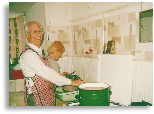 Preparing soup in the Kitchen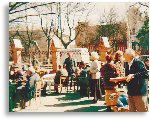 Ira, a young woman from an Armenian family, regularly helps the Lay Franciscans with the parish Soup Kitchen twice each week. Until recently, her strict Armenian father did not even allow her to go to Mass on Sundays. Even so she went on weekdays, on the pretext of studying. Then after Easter she 'escaped' to the Mother Teresa of Calcutta order in Kiev, where she will return soon to continue her studies and work with the poor and the sick.

Lena Furman, another young parishioner, who visited our parish in 2008, will go in September to enter an enclosed order of Benedictines in Zhitomir, Ukraine. She I has worked for over three years as a teacher, but feels quite certain of her vocation. She will be able to communicate with the outside world, but will never leave the convent grounds.

Many of our parishioners will remember Natalia Vakulishina, a postgraduate who has visited our parish twice. She is now in Rome, having spent several years with her order, the Salesian Sisters, first in Odessa, then in Conegliano in northern Italy, then in Turin.

During our visit Yuri Sema spent time with us. Yuri has visited our parish twice, first as a teenager in 2000, and again in 2004. He also came in 2005 on an assignment with Chester College, and stayed with some of our parishioners. Then he returned home quickly to enter the seminary in Vorzel, not far from Kiev, Hopefully he will be ordained in 2011, just 2 years from now.

And it is already more than three years since the ordination of Fr.Alexei Samsonov, to which two of our parishioners were invited in April 2006. He also visited our parish with a Sumy group in 2004. In holiday periods he often serves in Sumy, but currently he is working for his bishop on a media communications project in Kiev.

So in just a few short years since the collapse of Communism, the Sumy parish has provided one priest, plus hopefully another priest to be ordained in 2 years, plus four novice/postulant nuns. Considering that in that region, Catholics are a tiny minority, it is clear that the Holy Spirit has been busy in Sumy.
How Have We Helped? (Just one example)
Lena (Helen) Martinenko lives at Pravdinka Orphanage. We met her again on this visit. Four years ago we funded her leg operations. Lena is a very sociable and happy girl, and now she is walking normally.