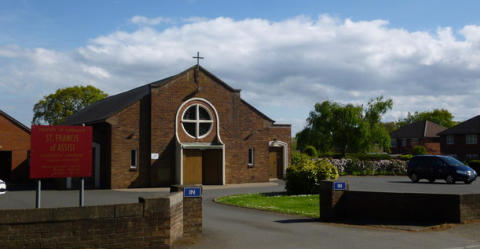 © Llay/Rossett Parish 2020
Llay/Rossett Parish
Wrexham, North Wales
Welcome
Welcome to this Catholic Parish website of Llay (St
Francis of Assisi) and Rossett (Christ the King),
Wrexham, North Wales
We welcome all new members to this Parish
community and to this web site with open arms.
There is a great family spirit in this parish and I am
sure you will find all the support you will need in any
matter of concern.
Please give our Parish Priest, Canon Bernard Lordan,
a call to book baptisms and weddings, and he will be available to you for
any spiritual care you need at any time.

News and Events -
No Parish
Bulletin this week
RIP
Valentina
….
More info
Wednesday Club next meeting
date

….

More info

Prego next meeting date

….

More info
Sumy
Soup Supper 2015

….

More info

PPC/AGM Minutes available for 27 Jan
2020

….

More info

Latest TCC newsletter….

More info

Canon
Lordan's 50th Anniversary….

More info
Mass Times -
Public Masses only
on Sunday, Church open Tues -
Fri 2pm-4pm for Adoration
These are our normal mass times but may vary so please view main
mass times

HERE

or Download the latest bulletin
Mon - Wed - Llay

9.30am,

Thur - Llay

7.00pm,

Fri - Rossett
9.30am,
Sat - Llay
9.30am
,
Sun - Llay

9.30am & 11.00am Booking only
Please see

MISSIO Appeal
Sunday Mass at St Francis of Assisi, Llay
A letter has been written by Erica Rowlands (Chair of PAC) outlining the
procedures to happen prior and during Masses. Please read this letter
very carefully and note Booking for mass is essential with contact details
for track and trace.

Booking for Mass

-

Phone/text 07470 616573 -
Tuesday to Friday 10am - 4pm
Whilst Canon Lodan is on Holiday Bishop Peter will celebrating Sunday
Mass 9.30 & 11.00am
To read full letter please follow this link HERE or Download PDF.
We are still looking for a few more volunteers to act as Stewards. If you
feel you can assist with this essential task, or would like any additional
information, then please contact Erica Rowlands in one of the following
ways: 07714921000 or erica.rowland@yahoo.com.
Nightingale House Meals Matter
Award winning Caffi Cwtch at Nightingale House are providing
meals for collection or to your door delivery service Monday to
Saturday 10am - 4pm.
For more information and pricing please view their website.
Divine Mercy Chaplet
The only chaplet we have that was
dictated by Jesus Himself; he gave
it to his secretary of Divine Mercy,
St. Faustina. The Lord made it
clear that the Chaplet was not just
for her, but for the whole world.
Prayed on ordinary rosary beads,
we can pray this chaplet at any
time and we can also make a
novena of prayer for any
intentions. We must not change or
add any other wording. Follow this
link to the "Divine Mercy Chaplet"
Eucharistic Adoration & Private Prayer
Commencing from Tuesday 17 November, 4 days each week at
St Francis of Assisi Llay Catholic Church, we will be opening for
Private Prayer with Exposition of the Blessed Sacrament from
2pm - 4pm every Tuesday to Friday.
All Welcome
St David's Day
St David of Wales
1 March 2021
Pope Francis proclaims "Year of St Joseph"
In a new Apostolic Letter entitled Patris corde ("With
a Father's Heart"), Pope Francis describes Saint
Joseph as a beloved father, a tender and loving
father, an obedient father, an accepting father; a
father who is creatively courageous, a working father,
a father in the shadows.
The Letter marks the 150th anniversary of Blessed
Pope Pius IX's declaration of St Joseph as Patron of the Universal
Church. To celebrate the anniversary, Pope Francis has proclaimed a
special "Year of St Joseph," beginning on the Solemnity of the
Immaculate Conception 2020 and extending to the same feast in
2021.
To read the full Letter please follow this link to the Bishop
Conference website.