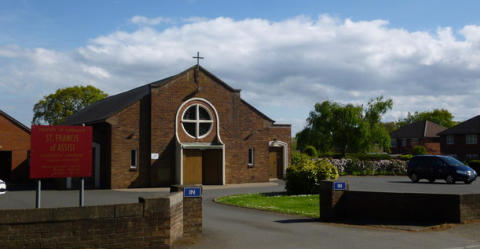 © Llay/Rossett Parish 2020
Llay/Rossett Parish
Wrexham, North Wales
Welcome
Welcome to this Catholic Parish website of Llay (St
Francis of Assisi) and Rossett (Christ the King),
Wrexham, North Wales
We welcome all new members to this Parish
community and to this web site with open arms.
There is a great family spirit in this parish and I am
sure you will find all the support you will need in any
matter of concern.
Please give our Parish Priest, Canon Bernard Lordan, a
call to book baptisms and weddings, and he will be available to you for
any spiritual care you need at any time.

News and Events -
No Parish
Bulletin this week
100 Club April 2020 Draw Winners

….

More info

Latest letter from
Valentina

….

More info

Wednesday Club next meeting date

….

More
info
Prego next meeting date
….
More info
Sumy Soup Supper
2018

….

More info

PPC/AGM Minutes available for 27 Jan
2020

….

More info

Latest TCC newsletter….

More info

Canon
Lordan's 50th Anniversary….

More info
Mass Times -
No public Masses at
this time due to Coronavirus,
CHURCH CLOSED
These are our normal mass times but may vary so please view main
mass times

HERE

or Download the latest bulletin
Mon - Wed - Llay

9.30am,

Thur - Llay

7.00pm,

Fri - Rossett
9.30am,
Sat - Llay
9.30am & 6.00pm
, Sun - Rossett
9.00am
&
Llay
11.00am
Church opening Times - Church closed until further notice -
Please see

MISSIO Appeal
Due to Coronavirus (COVID-19) our churches
are closed until further notice
Some Useful Information
Contacting the Parish Priest
Our Parish Priest can be contacted by telephone on

01978 852297

or
email dblordan@gmail.com
Parish Office
The parish office is closed until further notice. Please note that the
parish office email is currently unmanned so emails will be unanswered
until further notice.
Information About How The Church Is Responding Practically
To Coronavirus Can Be Found On the Bishops Conference
England and Wales website: www.cbcew.org.uk
The information is kept up to date and should be checked regularly.
The website contains a wealth of information to help us through this
crisis - video messages from Cardinal Nichols; prayers; guidance on
the sacraments and much more. You can also sign up for a daily
newsletter to help you remain up to date.
Holy Mass Live Streaming See this page
Support For One Another
The parish is both a spiritual and family community. Let us not be too
shy to help one another in whatever way we can. Keeping in contact
with each other via telephone or skype or other digital platform will
mean a great deal to many people. Anyone who has experienced being
out of circulation from their normal routine, knows the importance of
contact from relatives and/or friends.
You can also keep in contact with the parish by using the contact
page
on this website.
Useful Links
Wrexham Diocese - www.rcdwxm.org.uk
Government – for all your up to date information,

Wales

-
www.gov.wales
,
UK -
www.gov.uk/coronavirus
-
email service
link for update info
NHS - www.nhs.uk/conditions/coronavirus-covid-19/
Wrexham Borough Council – wrexham.gov.uk
AVOW: Association of Voluntary Organisations in Wrexham -avow.org
Cardinal Nichols: Now is the time for the
phased reopening of churches
In his homily for Pentecost Sunday, Cardinal Vincent Nichols
questions why churches have not been allowed to open for
private prayer, especially when car showrooms and outdoor
markets can open on Monday 1 June and non-essential shops
from 15 June. He specifically asks why churches have been
"excluded from this decision?"The opening of churches, even if
only for private prayer, helps nurture faith which is a "vital
contribution to our common good" the Cardinal says.
He goes onto add that faith is a "motivation for the selfless care
of the sick and dying" and will help play a key role in the
"rebuilding of our society."Acutely aware of the importance of
opening churches safely, the Cardinal stresses that "We are
confident that we can do so. We have developed expert guidance.
We are ready to follow the Government's guidelines as soon as
they are finalised."He questions "the risk to a person who sits
quietly in a church which is being thoroughly cleaned, properly
supervised and in which social distancing is maintained?"
Adding that "the benefits of being able to access places of prayer
is profound, on individual and family stability and, significantly,
on their willingness to help others in their need."…………

To Read
full homily please view CBEWC website
Nightingale House Meals Matter
Award winning Caffi Cwtch at Nightingale House are providing
meals for collection or to your door delivery service Monday to
Saturday 10am - 4pm.
For more information and pricing please view their website.
St Beuno's Outreach invitation to Group Zoom
Meetings
For more information on these meetings please see THIS Letter