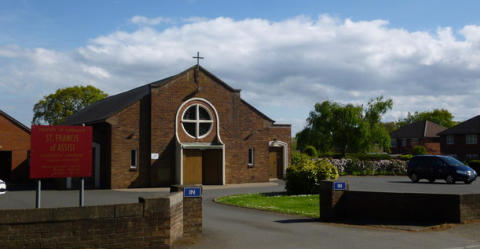 © Llay/Rossett Parish 2021
Llay/Rossett Parish
Wrexham, North Wales
Welcome
Welcome to this Catholic Parish website of
Llay (St Francis of Assisi) and Rossett (Christ
the King), Wrexham, North Wales
We welcome all new members to this Parish
community and to this web site with open
arms.
There is a great family spirit in this parish
and I am sure you will find all the support
you will need in any matter of concern.
Please give our Parish Priest, Canon Bernard Lordan, a call to
book baptisms and weddings, and he will be available to you
for any spiritual care you need at any time.

Mass Times -
No public Masses at Rossett at this
time CHURCH CLOSED untill further notice
These are our normal mass times but may vary so please view main mass
Mon - Wed - Llay

9.30am,

Thur - Llay

7.00pm,

Fri - Llay

9.30am,
Sat - Llay

6.00pm

, Sun - Llay

10.00am
Eucharist Adoration from 2.00pm to 4.00pm every Wednesday and
Sunday 3.00pm - 5.00pm - Llay church open for private prayer
every day 9.00am to 5.00pm
Nightingale House Meals Matter
Award winning Caffi Cwtch at Nightingale House are
introducing a NEW frozen and fresh meal service for
collection or to your door delivery service Monday to
Saturday 10am - 4pm.
For more information and pricing please view their
website.
Divine Mercy Chaplet
The only chaplet we have that
was dictated by Jesus Himself;
he gave it to his secretary of
Divine Mercy, St. Faustina. The
Lord made it clear that the
Chaplet was not just for her, but
for the whole world. Prayed on
ordinary rosary beads, we can
pray this chaplet at any time and
we can also make a novena of
prayer for any intentions. We
must not change or add any
other wording. Follow this link to the "Divine Mercy
Chaplet"
Sunday 24 April - Feast of Divine Mercy
Eucharistic Adoration & Private Prayer
Starting 2 March
- Wednesday afternoon each week
Eucharistic Adoration & Private Prayer
at St Francis of
Assisi Llay Catholic Church, we will be open for Private
Prayer with Exposition of the Blessed Sacrament from
2pm - 4pm.
Starting 1 May
- Sunday afternoon Eucharistic
Adoration 3.00pm - 5.00pm - Starting with Divine Mercy
at 3.00pm & Rosary 4.00pm.
All Welcome
Cardinal endorses new guidelines for Holy
Land pilgrimages
Cardinal Vincent Nichols, President of
the Catholic Bishops' Conference of
England and Wales, has commended
new guidelines from its International
Affairs department which help would-be
pilgrims and pilgrimage leaders better
understand the life-changing and challenging
experiences a Holy Land pilgrimage can offer. Read
more….
New Mass Times Starting this weekend
New Mass Times started on the weekend,

2 - 3 July
2022,
the Mass times are changing for the Sunday
Masses.
We are amalgamating the two Sunday masses into
having just one at

10.00am
New Mass times
Saturday - 6.00pm
Sunday - 10.00am
After the Sunday mass there will be Tea/Coffee served
in the church hall
Relic Tour: St Bernadette
In September and October this year, the
relics of St Bernadette will journey on
pilgrimage to England, Scotland, and Wales
for the very first time. This very special once in a lifetime
event will provide an opportunity for people of all ages and
backgrounds to experience the special gifts and charisms of
Lourdes, in a church or cathedral near them.

Wrexham
Cathedral's
timeslot is Arrive 4.30pm 14 Sept and depart
9.00am 15 Sept and then goes to

St Winefride's Well
Holywell 9.45am until 4.30pm.Read More….
What is Evangelii Gaudium Sunday?
Sunday, 18 September 2022
The Third Sunday in September, formerly
called Home Mission Sunday, is now
Evangelii Gaudium Sunday.
Named after Pope Francis' first (solo)
Apostolic Exhortation on the Joy of the Gospel, the day
offers the Catholic community in England and Wales the
opportunity to celebrate the beauty of our faith and our
commitment to witness to the fullness of life in Christ.
Fr Jan Nowotnik, Director of Mission at the Bishops'
Conference, tells us more about the day and how you can
support this important work. Read More….
Ukrainian Bishop calls on government to
support Ukraine as Russia invades
Bishop Kenneth Nowakowski, Eparchial Bishop of the
Ukrainian Greek Catholic Church in the UK, has addressed
his community and all people of good will as Russia invades
Ukraine.
"The day that we have been hoping would never come has
arrived. This morning we woke up to hear the news that
Russia has unleashed its troops into an invasion of
Ukrainian soil as well as firing missiles into Ukrainian
territory." Read more….
COVID Reminder
Due to the increase of numbers for the
new weekend mass times
and the increase of COVID cases we have
been advise that parishioners should
wear face masks and sanitise their
hands.0000000000000000000000000000000000000000000000000000000000000000000000000000000000000000000000000000000000000000000000000000000000000000000000000000000000000000000000000000000000000000000000000000000000000000000000000000000000000000000000000000000000000000000000000000000000000000000000000000000000000000000000000000000000000000000000000000000000000000000000000000000000000000000000000000000000000000000000000000000000000000000000000000000000000000000000000000000000000000000000000000000000000000000000000000000000000000000000000000000000000000000000000000000000000000000000000000000000000000000000000000000000000000000000000000000000000000000000000000000000000000000000000000000000000000000000000000000000000000000000000