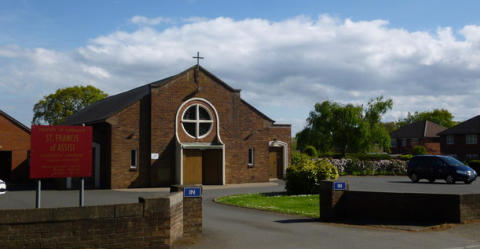 © Llay/Rossett Parish 2020
Llay/Rossett Parish
Wrexham, North Wales
Welcome
Welcome to this Catholic Parish website of Llay (St
Francis of Assisi) and Rossett (Christ the King),
Wrexham, North Wales
We welcome all new members to this Parish
community and to this web site with open arms.
There is a great family spirit in this parish and I am
sure you will find all the support you will need in any
matter of concern.
Please give our Parish Priest, Canon Bernard Lordan, a
call to book baptisms and weddings, and he will be available to you for
any spiritual care you need at any time.

News and Events -
No Parish
Bulletin this week
RIP
Valentina
….
More info
Wednesday Club next meeting
date

….

More info

Prego next meeting date

….

More info
Sumy
Soup Supper 2015

….

More info

PPC/AGM Minutes available for 27 Jan
2020

….

More info

Latest TCC newsletter….

More info

Canon
Lordan's 50th Anniversary….

More info
Mass Times -
Public Masses only
on Sunday, CHURCH CLOSED
Weekdays
These are our normal mass times but may vary so please view main
mass times

HERE

or Download the latest bulletin
Mon - Wed - Llay

9.30am,

Thur - Llay

7.00pm,

Fri - Rossett
9.30am,
Sat - Llay
9.30am
,
Sun - Llay

9.30am & 11.00am Booking only
Church opening Times - Church open only for Sunday Mass -
Please see

MISSIO Appeal
Sunday Mass now available at St Francis of
Assisi, Llay
After the Parish Meeting, of the 14th September, it was decided to
arrange to get ready to re-open Llay Church for Sunday Masses. A letter
has been written by Erica Rowlands (Chair of PAC) outlining the
procedures to happen prior and during Masses. Please read this letter
very carefully and note Booking for mass is essential with contact
details for track and trace.

Booking for Mass

-

Phone/text 07470
616573 - Tuesday to Friday 10am - 4pm
"Dear Parishioners
We have re-opened Llay Church (St Francis) for Mass on Sunday 27th
September. There were two Masses commencing at 9.30 and 11.00 am.
Bishop Peter has granted his permission for these Masses to go
ahead"…….To read full letter please follow this link HERE or
Download PDF.
We are still looking for a few more volunteers to act as Stewards. If you
feel you can assist with this essential task, or would like any additional
information, then please contact Erica Rowlands in one of the following
ways: 07714921000 or erica.rowland@yahoo.com.
Nightingale House Meals Matter
Award winning Caffi Cwtch at Nightingale House are providing
meals for collection or to your door delivery service Monday to
Saturday 10am - 4pm.
For more information and pricing please view their website.
Donate online at
cafod.org.uk/give
or by using one of
the envelopes that will be available in our Church.

You
can also give easily via text. Text CAFOD to 70085
to donate £10.
Divine Mercy Chaplet
The only chaplet we have that was
dictated by Jesus Himself; he gave
it to his secretary of Divine Mercy,
St. Faustina. The Lord made it clear
that the Chaplet was not just for
her, but for the whole world. Prayed
on ordinary rosary beads, we can
pray this chaplet at any time and we
can also make a novena of prayer
for any intentions. We must not
change or add any other wording.
Follow this link to the "Divine Mercy
Chaplet"
Saturday October 31st – Eve of All Saints -
National Rosary relay Rally
National Rosary relay Rally from 9am to 9pm – where the Dioceses of
the British Isles are invited to take an hour where the Rosary is said in
parishes, homes etc throughout the Diocese during their designated
hour.
The Diocesan designated hours
are(click image). Wrexham
Diocese time slot is 4pm - 5pm.
Let the Rosaries offered on the Eve
of All Saints 2020 – be a defence
for our peoples and Isles from the
snares, traps and entanglements
of the devil."The Rosary is the
'weapon' for these times." ~Saint
Padre Pio.
For more information please follow
this link Whirlwind Rosary
This is to be led in the form of a Rosary Relay Rally where the Dioceses
designated in their Rosary Hour encourage people to pray the rosary at
some point during the specified hour. Then on the hour the next Diocese
takes up the Rosary Relay Rally and soon until 9pm. Many Bishops are
leading their designated hour.
1.Praying for the spiritual well-being of the British Isles and for its
preservation from decadence, adversity and war.
2.Praying also for our Church and Gospe lvision, which are under
increasing challenge and attack.
3.Praying for our Isles, for the conversion of our peoples and for their
protection from evil, danger and sickness.
4.Praying for the deliverance of our Isles from the COVID-19 global
pandemic.
Welsh Assembly has introduced a FULL COVID LOCKDOWN from
6pm Friday 23 October
Churches will be closed except for Weddings and Funerals
Sunday Masses have been cancelled until 15 November
NO SUNDAY MASSES DUE TO LOCKDOWN