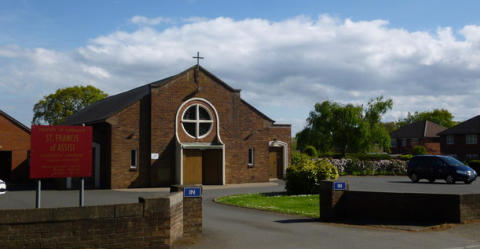 © Llay/Rossett Parish 2021
Llay/Rossett Parish
Wrexham, North Wales
Welcome
Welcome to this Catholic Parish website of
Llay (St Francis of Assisi) and Rossett (Christ
the King), Wrexham, North Wales
We welcome all new members to this Parish
community and to this web site with open
arms.
There is a great family spirit in this parish
and I am sure you will find all the support
you will need in any matter of concern.
Please give our Parish Priest, Canon Bernard Lordan, a call to
book baptisms and weddings, and he will be available to you
for any spiritual care you need at any time.

Mass Times -
No public Masses at Rossett at this
time CHURCH CLOSED untill further notice
These are our normal mass times but may vary so please view main mass
Mon - Wed - Llay

9.30am,

Thur - Llay

7.00pm,

Fri - Llay

9.30am,
Sat - Llay

6.00pm

, Sun - Llay

10.00am
Eucharist Adoration from 2.00pm to 4.00pm every Wednesday and
Sunday 3.00pm - 5.00pm - Llay church open for private prayer
every day 9.00am to 5.00pm
Nightingale House Meals Matter
Award winning Caffi Cwtch at Nightingale House are
introducing a NEW frozen and fresh meal service for
collection or to your door delivery service Monday to
Saturday 10am - 4pm.
For more information and pricing please view their
website.
Divine Mercy Chaplet
The only chaplet we have that
was dictated by Jesus Himself;
he gave it to his secretary of
Divine Mercy, St. Faustina. The
Lord made it clear that the
Chaplet was not just for her, but
for the whole world. Prayed on
ordinary rosary beads, we can
pray this chaplet at any time and
we can also make a novena of
prayer for any intentions. We
must not change or add any
other wording. Follow this link to the "Divine Mercy
Chaplet"
Sunday 24 April - Feast of Divine Mercy
Eucharistic Adoration & Private Prayer
Starting 2 March
- Wednesday afternoon each week
Eucharistic Adoration & Private Prayer
at St Francis of
Assisi Llay Catholic Church, we will be open for Private
Prayer with Exposition of the Blessed Sacrament from
2pm - 4pm.
Starting 1 May
- Sunday afternoon Eucharistic
Adoration 3.00pm - 5.00pm - Starting with Divine Mercy
at 3.00pm & Rosary 4.00pm.
All Welcome
New Archbishop of Cardiff
'A ceremony of Installation of Bishop
Mark O'Toole as the new Catholic
Archbishop of Cardiff took place today
(Monday, June 20) at St David's
Cathedral, Cardiff. Appointed by Pope
Francis, Archbishop Mark O'Toole had been Bishop of
Plymouth since 2013. Succeeding Archbishop George
Stack, who has been in post in Cardiff since 2011, today's
installation coincides with the feast day of the Welsh
martyrs Saints Julius and Aaron. As well as assuming
oversight of the Catholic communities in the Archdiocese
of Cardiff, Archbishop O'Toole also becomes the new
Bishop of Menevia, a diocese which includes Swansea and
its surrounding areas. A second ceremony takes place on
Thursday (June 23) at Swansea's Cathedral Church of St
Joseph to celebrate this. The two dioceses combined
incorporate much of South and Mid Wales, alongside
Herefordshire. Having spent the last eight years as
Bishop in the Diocese of Plymouth, ministering in the
counties of Cornwall, Devon and Dorset, Archbishop
O'Toole looks forward to immersing himself within the
communities of both dioceses. Read More….
Sea Sunday
10 July 2022
Every year churches around the world
celebrate Sea Sunday. It is a day for
people to come together to pray for
seafarers and fishers, and thank them for the vital role
they play in all of our lives. Read more….
New Mass Times Starting this weekend
New Mass Times starting this Weekend,

2 - 3 July
2022,
the Mass times are changing for the Sunday
Masses.
We are amalgamating the two Sunday masses into
having just one at

10.00am
New Mass times
Saturday - 6.00pm
Sunday - 10.00am
After the Sunday mass there will be Tea/Coffee served
in the church hall
Relic Tour: St Bernadette
In September and October this year, the
relics of St Bernadette will journey on
pilgrimage to England, Scotland, and Wales
for the very first time. This very special once in a lifetime
event will provide an opportunity for people of all ages and
backgrounds to experience the special gifts and charisms of
Lourdes, in a church or cathedral near them. Read More….
Bishop: Asylum seekers' dignity must be
protected and upheld
The UK's plans to forcibly deport
to Rwanda some of those seeking
refuge in our country is shamefully
illustrative of what Pope Francis
has called the 'loss of that sense
of responsibility for our brothers and sisters on which every
civil society is based'.
The plan is presented as a humanitarian response to
combat people trafficking and smuggling yet the result will
compound the suffering of those who are already victims.
Crime is defeated by confronting the perpetrators not by
punishing victims. This scheme will increase the difficulties
of those hoping for a new beginning, and it does nothing to
address the problems which cause people to flee their
homes. Read more….
Cardinal urges government to 'expand
sponsorship to all Ukrainian refugees
In a letter sent on behalf of, and signed, by London Church
Leaders, Cardinal Vincent Nichols has written to the
government to urge "sponsorship criteria be expanded to
include all Ukrainian refugees on humanitarian grounds,
allowing them to enter the UK as quickly as possible." Read
full letter….
Ukraine Humanitarian Appeal: How you can
help
Like you, CAFOD is deeply disturbed by the ongoing attacks
on Ukraine. Read how to help….
Ukrainian Bishop calls on government to
support Ukraine as Russia invades
Bishop Kenneth Nowakowski, Eparchial Bishop of the
Ukrainian Greek Catholic Church in the UK, has addressed
his community and all people of good will as Russia invades
Ukraine.
"The day that we have been hoping would never come has
arrived. This morning we woke up to hear the news that
Russia has unleashed its troops into an invasion of
Ukrainian soil as well as firing missiles into Ukrainian
territory." Read more….
Guidance for Communal Worship during the
COVID-19 Pandemic
This Guidance is offered to the Dioceses of England and
Wales to offer advice for safe communal worship in Catholic
churches during the Covid-19 pandemic
Guidance from Bishop's Conference.
COVID Reminder
Due to the increase of numbers for the
new mass times, starting this weekend,
and the increase of COVID cases we have
been advise that parishioners should
wear face masks and sanitise their
hands.